SIMPLEMED+ MEDICATION DISPENSER
Take the right med, right dose at the right time
Simple set up, no need for a computer, Internet access or landline
Notification for
missed doses of
medication
Patient's well-being, family's concern rate and caregiver's involvement
Rich reports are generated & saved on the service provider's system
MANAGE MULTIPLE MEDICATIONS
Smart Automated Medication Dispenser
Monitored 24/7/365 days a year

24 hour batter backup

Communicates using cellular network

Needs to be plugged into a standard power outlet

Loud audible alarm

Up to 4 dispense times per day

Bluetooth Vital Signal Monitoring Available
Clinically Tested & Validated, So You Know Your Readings Are Accurate
​
View Readings on the Easy to Read LCD

Connect to Your Simplemed+ via Bluetooth SmartTM Technology

Set Goals & View Your Trends reports form STAAR Alert
​
SlimFit™ Cuff System w/ Gentle inflation. Medium Cuff: 9.0" – 14.6" (23cm – 37cm) – UA-290 (included). Advanced Measurement and Reporting. 30 reading internal memory storage with time and date stamp. Unlimited reading storage with STAAR Alert cloud account. Risk Factor Indicators including blood pressure classification and Irregular Heartbeat detection
Medication Dispenser Features
The SimpleMed+ is an advanced medication pill dispenser and reminder system for medication adherence. Designed to combine patient's ease of use with various options for the service provider; thus making it the most effective and efficient solution for improving medication adherence.
​
SimpleMed+, a smart automated pill dispenser, makes use of auditory & visual alerts and medication reminders for the patient to take the right medication in the correct manner, at the designated time. In a case that the medication was not taken, the service provider is informed for further action.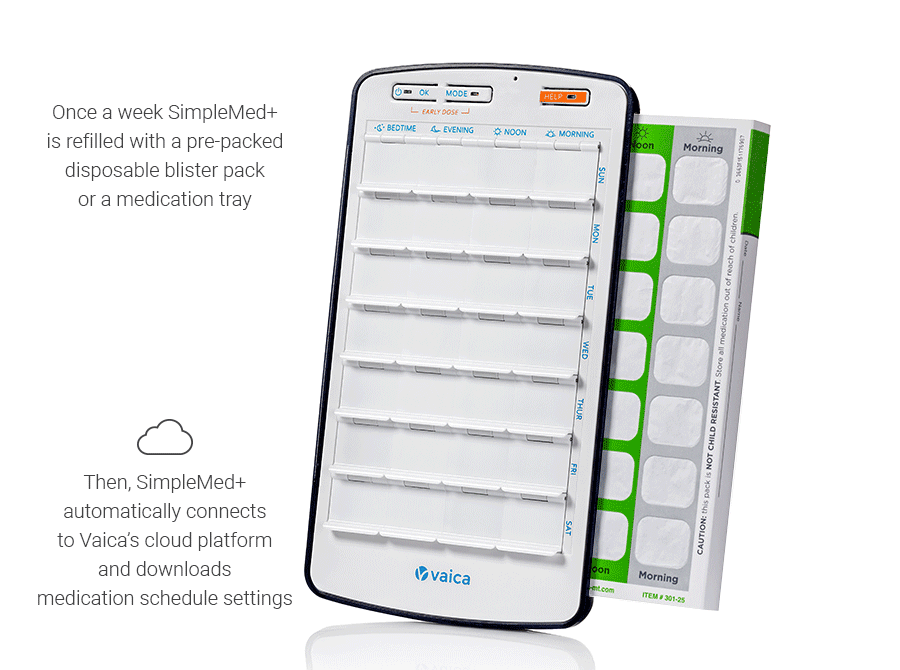 Pharmacy filled once a week

Slide in try to reload

Signal is sent to monitoring center
Professional Installation
Delivered to your home

In home education on the medication dispenser

Training on how to fill the medication dispenser

Leave behind instructions

Review service agreement
What is the warranty on the equipment?
STAAR Alert warrants that in the event any part of the signaling system equipment furnished and installed by STAAR Alert shall become inoperative because of defects or ordinary wear and tear while installed in your home under this agreement, it will repair or replace any defective part of the system, at no charge, as soon as reasonably practical after notice from you that the system is not operating properly or if a monthly check should reveal any problems with it. Call us at 1-800-338-7114 immediately should service be required. You agree that your sole and exclusive remedy in the event of such defects will be the repair or replacement of defective equipment.
What is your return policy?
Any customer who purchases service(s) from STAAR Alert have 30 calendar days to decide if they are going to continue service. They may choose to discontinue service for any reason as long as they return the equipment with all parts and that the equipment is in new working condition less normal wear and tear. Equipment must be returned within 30 days from the customer receiving it.
​
If the equipment is not returned the cost of the equipment will be charged to the customer's credit card. For additional details please call 1-800-338-7114.
STAAR ALERT PREMIUM PRODUCTS