​
NON-LOCKING MEDICATION
MANAGEMENT
SYSTEM
SIMPLEMED+
*WITH OPTIONAL REMOTE PATIENT MONITORING
Take the right med, right dose at the right time
Simple set up, no need for a computer, Internet access or landline
Notification for
missed doses of
medication
Patient's well-being, family's concern rate and caregiver's involvement
Rich reports are generated & saved on the service provider's system
MANAGE MULTIPLE MEDICATIONS
Smart Automated Medication Dispenser
Monitored 24/7/365 days a year

24-hour battery backup

Communicates using the cellular network

Needs to be plugged into a standard power outlet

Flashing Light Notification

Loud audible alarm

Up to 4 dispense times per day

*Bluetooth Remote Patient Monitoring Available
*Remote Patient Monitoring Bluetooth Peripherals
Medication Dispenser Features
The SimpleMed+ is an advanced medication pill dispenser and reminder system for medication adherence. Designed to combine patient's ease of use with various options for the service provider; thus making it the most effective and efficient solution for improving medication adherence.
​
SimpleMed+, a smart automated pill dispenser, makes use of auditory & visual alerts and medication reminders for the patient to take the right medication in the correct manner, at the designated time. In a case that the medication was not taken, the service provider is informed for further action.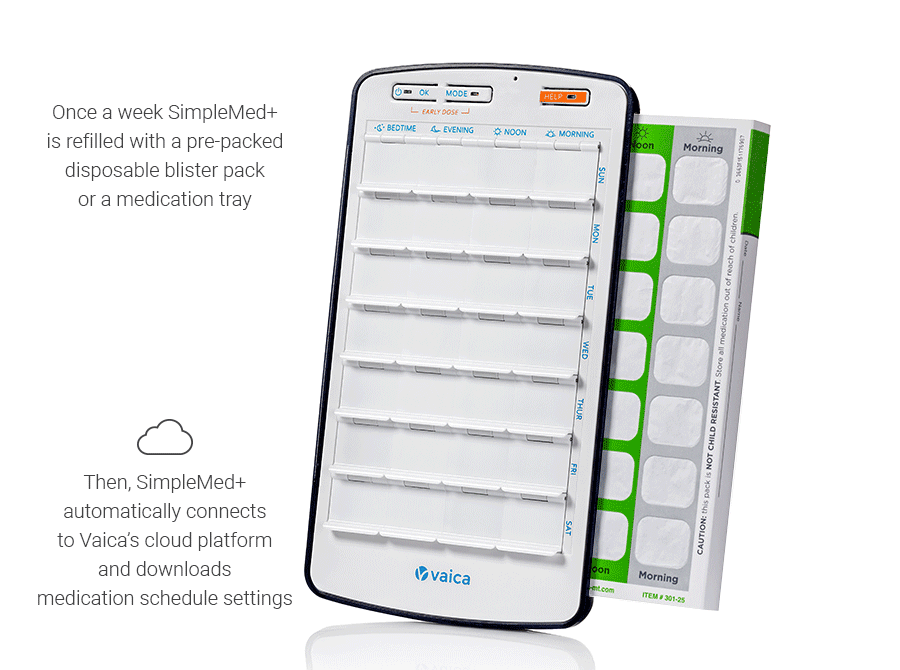 Pharmacy filled once a week

Slide in try to reload

Signal is sent to monitoring center
Budget-friendly options are available! We are truly thankful for our amazing STAAR clients.
Call in for specials that may not be available online.